Here's a play by play of my recent return from an Encore Salon Suite. Enjoy!
A quick breakfast and I'm on my way to pick up my buddy Jeff. We're excited enough to actually limit our intake of fluids that morning and make a straight shot drive to Vegas without stops.
We pull into Mandalay Bay where I'm comped for the night. There at the invited guest line, I ask if I can upgrade to THEhotel. A quick visit to the manager in the back and the front desk agent comes back with a price of $10. Yeah, cheaper than a drink. A $20 tip for his efforts and we're on our way up.
THEhotel's rooms are starting to look a little tired but are nevertheless nice. Being the first Vegas hotel to use flat panel televisions in their rooms, the plasmas are ancient enough to heat the entire suite if left on. Jeff has a full on Feng Shui freakout (he's Taiwanese) when he realizes that the beds face mirrored closet doors; probably something 99% of people wouldn't even think about, but the 1% that do are likely big players. Nice oversight, Mandalay.
We make our way down and cab it to Caesars. Now, about a week ago, one of my twitter followers sent me a stream of private messages indicating in full detail the whereabouts of a Total Rewards Diamond card that he had hidden for me. Pursuit of the card actually became more intriguing than the benefits themselves. So I follow his directions precisely and to my disbelief, lodged between the right leg and top of a marble table near the 7-stars check-in is the Diamond card he had left last week! Thanks Hal--you're awesome!
Unfortunately, the Diamond Lounge around the corner was checking IDs so the card wouldn't do me any good there. We head to the Augustus Café where we grab a light lunch of quesadillas and a Caesar (hardy har) salad.
I call Hunter afterwards to share drinks with him at Encore's High Limit bar before heading to New York-New York to attend their Beer Bash on the Bridge. What was advertised as a beer tasting was more like a frat party so I proceed to get stupid drunk to enjoy the atmosphere and relieve myself from the heat.
Jeff and I then head back to THEhotel for a quick refresher and make our way to Craftsteak at MGM via Excalibur. Man, has this dungeon come a long way.
My friends Rami, Kathryn, Andy, and Beth from Austin had arrived last Friday. Rami had no idea I was arriving Sunday night so this was a great surprise for him. We had a 9:45pm seating and despite being among the last two tables, service and food were phenomenal from start to finish.
The ladies call it a night while us gentlemen make our way back to THEhotel for drinks from the bottle of Grey Goose I had packed. We then make our way down to the casino for a little blackjack where I break even and Andy loses a hundred or so. I then teach Andy pai gow poker but there was no sign of beginner's luck.
Andy and Rami join the girls at the Hilton Grand Vacations where they're all staying while Jeff and I call it a relatively early night. The next morning we'd be checking into Encore Tower Suites for the rest of the stay and I wanted to be refreshed.
Andy and Beth had headed back to the airport earlier that morning and it was my turn to give Rami and Kathryn the best damn Vegas experience I knew how. Jeff and I check out of THEhotel and after picking them up from the Grand Vacations, we proceed to Encore Tower Suites. I had booked one Tower suite and one Resort suite through American Express Platinum at a rate of $239 and $149, respectively. Each room came with a complimentary upgrade, $170 in food credit, and 4pm check-out. At the check-in desk, I requested if I could upgrade to the Duplex Apartment, but the rate was too rich for my blood especially considering that I already have that room type booked for December. I wasn't going to settle for what we had though, especially when for only $125 per night, I was able to snag a massive Salon suite and attach an additional Tower room to it for a combined total of over 3000 square feet. Not bad for $513 per night.
The room wasn't quite ready so we make our way to Society for lunch. The $18 "lunch box" special is like a small three-course prix fixe and probably the best value on their menu while the "Rajin' Cajun" bloody mary is a must order. That drink would be the catalyst of the most mind-blowingly, brain cell-destroyingly drunk I've ever gotten.
I receive the phone call that the room is ready and we make our way back to the Tower Suites lobby. Before handing me the room keys, Daniela, the front desk receptionist, says, "Aren't you the one that brought your parents here for the grand opening? That was very sweet of you." Keep in mind that she checked me in six months ago--truly impressive service.
We make our way to Salon suite 5306 which has been described countless times by myself and others so I won't go into much detail. Needless the say, it's an incredible room finished in the finest materials. The art in the bathroom is worth mentioning alone--a deep red canvas with several butterflies hand-painted in gold leaf. It's a piece that is unique to each suite and not done in presses of hundreds or thousands like in any other megaresort.
We did do the traditional room tour, but just watch what happens.
So yeah, that became a disaster and the full tour will remain out of the public eye forever. Instead, I give you little snippets with audio tracks covering over the annoying drunken rambling:
We toast with a vodka shot to commemorate our arrival at Encore and what promises to be an incredible night. Rami and Jeff decide to take it easy in the room while Kathryn and I head down to the European pool. The Monday crowds still left from Independence Day weekend were in full force, but finding a seat wasn't a problem. The outdoor casino was hopping with $10 and $15 minimums and even a packed $10 craps game. After a couple relaxing hours and several drinks later, we head back to the room for a couple glasses of scotch before dinner at Wazuzu, which included a few sake martinis. And that's when things started to fade...
At some point, I meet Hunter and Chuckmonster along with his friend Rich (of WinoTripping.com fame) and we all head back up to the suite for--you guessed it--more drinks. I helped myself to another finger of scotch and another shot of vodka. It was Hunter's birthday and Rich had brought a delicious bottle of Stags' Leap petite syrah to celebrate (I remember the name only because I took a picture of the label with my cell's camera). Many laughs and good times are shared by all and before we know it, it's 11pm.
Now here's the best part: I'm sloshed out of my mind and I still have reservations for bottle service at XS. My buddy Jake had set everything up so that we only had to order one bottle which at this point was plenty. Six of us make our way down to the line. The two ladies with us are a couple feet behind and are intercepted by doormen trying to do them a "favor" by putting them in the faster moving lady's line. Excuse me, but I'm Mike mothafuckin' E and nobody that rolls with me is going to wait in some line. We are already seated at our table when we realize we're missing our girls. After running out and pulling them in, we take our booth, the Stoli comes out, and we have the time of our lives.
Everything else at this point was a trip. I remember dancing and drinking with random people and just having a blast. I considered "making it rain" recession style. In other words, I wanted to throw handfuls of pennies at douche bags I didn't like.
This picture pretty much sums up the night. Yes, I'm the dude in the white shirt.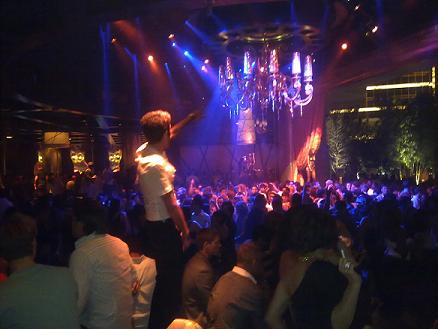 Before I know it, everyone's gone and it's only me with an entire booth and almost empty bottle to myself. Translation? Prostitute prey.
A lady of the night takes a seat next to me and decides to show me her piercings. Rather than describe her exhibitionist ways in detail, I think it's in best taste to fade to black right about now.
Okay, now fade back in...
She's aggressive beyond belief. I tell her I'm married with children. She says she doesn't care. Then I tell her I actually have a vajayjay. This makes her even more excited. You know that saying that goes, "You don't pay a hooker for her services, you pay her to leave..."? Yeah, I gave her five bucks to get off my booth. She told me to go fuck myself but it did the trick.
Shortly thereafter, Jeff comes back completely oblivious to what had just happened while my four other friends are nowhere to be found. I receive a text from Chuck around 3:30am saying that he left his camera bag in my suite. I'm ready to leave any way and we meet him and Rich outside XS. We head back up to the suite and continue to have a crazy time though I hardly remember any of it.
Chuck and Rich leave, but Jeff is complaining that his stomach is bothering him. I tell him to go throw up, but he won't do it so I just beg him to go in the guest bathroom and wait there for a little while. He goes in and locks the door. From outside I hear him spitting constantly and I say, "You're salivating a lot. That's a sign of nausea. Stick your finger down your throat or you'll regret it tomorrow morning." He just starts mumbling to me at that point. I took that as my cue to call it a night.
It's morning and I have a hangover of epic proportions. I sit up from bed and feel my pulse pounding through my head. I find Rami and Kathryn in the attached room safe and sound and we compare stories from the night before. Apparently, they had their own barffest backstage of the Le Reve theater. Neither they nor I had any idea how they got there, but as a casino design nut, I was intrigued about the backstage area. I ask them half-jokingly what it's like knowing all too well that one doesn't exactly pay attention to their surroundings while vomiting. They do their best to describe it because I don't think they had it in their hearts to say "fuck you" to me.
I check Jeff's pulse to make sure he's still alive and the rest of us make our way down to Terrace Pointe for breakfast. I don't remember what I ordered, but I just eat it in record time so I can start popping the ibuprofen.
Kathryn heads back to the room to recover while Rami and I hit the pool. I order another drink and Rami is in disbelief. After a few more hours of sun, we meet Jeff in the Lobby Bar and Café where he tells me that I indeed did "make it rain" at XS last night. Apparently, I took a single dollar out of my wallet and threw it in the air. What's worse is that I scrambled to pick it up and repeated the process. We are in a recession, you know.
I get a text from Hunter to join him at Society Bar's happy hour so we then head there. Society Bar is a very recent addition to Encore and has some of the friendliest and most fun bartenders I've ever come across. We order a few mojitos (their specialty) while Hunter tells the bartender to surprise us all with a round of whatever shot he can think of. He makes us shots of absinthe prepared traditionally by melting a sugar cube into the glass. This is enough to get me buzzing again until dinner.
We relax in the suite for a bit before deciding to make dinner reservations at Okada. I really love that restaurant and the $49 prix fixe Taste of Wynn special had me hankering to go back. We make some last minute reservations but score a booth right next to the loggia. On the menu below the $49 prix fixe is a $36 bento box option with even more choices. I opt for that plus a sake martini leaving the restaurant extremely satisfied but not stuffed--it was the perfect amount of food. That makes for my fifth trip to Okada and it only seems to get better and better each time.
Kathryn heads to the room while the rest of us meet with Hunter and his wife Megan for a little south strip action. We begin with Mandalay heading to Foundation Room first. It was 10:20pm and they were closing for the evening. Sign of the economic times. We then decide to hit MIX instead which is a little busier, but they've seriously cut back on staff leaving one bartender and no waitresses at all. So we then move on to Luxor where despite it only being midnight, all the bars are closing. Okay, this is getting really depressing.
Continuing with the theme of depression, we hit Tropicana for a little cheap gambling and Hunter teaches me Let it Ride. It's a pretty fun time though I think I prefer games with even money and more payouts to games with fewer, but larger wins. I lose about $40 until we decide to stroll further north into Planted Hollywood. At least their bars have a little action and we grab a couple beers.
Sure, it was a Tuesday night and yes, I was having fun, but what the hell has happened to my favorite city? There were more porn slappers than pedestrians on the strip and not a single place to just kick back and enjoy the atmosphere. We finally decide to walk across to Bellagio and hit Petrossian where I know there would be some activity. Indeed we are right, but even Bellagio felt a little desolate. From there we cab it back to Encore where we all decide to call it a night until I remember to head down to the Tower Suites front desk and ask for water. Jeff comes along with me, but we can't bring ourselves to go to bed at 1:30am. We instead find a baccarat table and have our asses handed to us.
The next day after about three hours of sleep, we all decide to wake up early and hit Tableau. It was probably one of the best decisions of the trip--excellent as always.
Pretty much the rest of the day was spent at Encore's spa taking in the facilities and detoxing. I stretched across the heated stone lounge chairs and admired the genius of Roger Thomas and Todd-Avery Lenahan. As many of you know, Encore is heavy with the butterfly motif, but sometimes their expression is extremely subtle. I'll do my best to explain one incredible example: The furthest wall from the entrance of the spa lining one side of the wet areas is made of mosaic tiles and has the silhouette of a tree painted on it. Hanging in front a few feet from this wall is a cascade of Swarovski crystals reflecting off a skylight. This not only creates brilliant reflections against the crystal, but an incredible spectrum of moving colors against the mosaic wall emulating the movement of butterflies off the branches of the tree silhouette. Amazing.
I fall asleep for a couple hours marveling at this and wake up incredibly refreshed. We finally meet back at the Country Club for our last meal in Vegas before hitting the road. I've raved about the Country Club numerous times and this experience was no different.
We pack our bags, check out, and wait at the valet for the car to arrive. There's a slight delay in bringing the car up as I watch the single most incredible display of high roller suck-up I've ever seen. Three women in traditional Muslim headdress step out of a black Cadillac Escalade and enter the Encore Tower Suites lobby. Some of them wore their coverings more conservatively than others, but all were carrying Louis Vuitton, Chanel, and Prada accessories among others. Then another black Escalade pulls up with another three women and again, all in traditional Muslim headdress. And then another Escalade and then another. We look back to see two more Escalades left only to be followed by several Lincoln stretches backed up to Las Vegas Boulevard, and yes, they were all part of the same party. Wynn and Encore outsources to Executive Limousine when all ten of their Rolls Royce Phantoms are in use, but this party was so large that they had to outsource even beyond Executive's massive fleet.
It was as though the entire Tower Suites staff had choreographed their entrance with several butlers and casino hosts making sure every arriving group was given room keys and escorted straight to the elevators. A few men started pulling up whose asses were most kissed and my car came around as well. I almost didn't want to pick it up because I knew that had I waited for the Wynn Phantoms to start rolling in, I'd probably see Sheik Mohammed or Prince Al-Waleed or some other Middle Eastern tycoon that makes Steve Wynn glad he built a Sky Casino atop Encore. I even heard rumblings of them having an entire floor blocked out. Insane.
We pull out and head home, but first hit the M Resort on the drive back so that I could finally give it a walkthrough. I thought it was by far the most impressive among the local's casinos with a much smaller feel and a strip-like vibe. It's like Red Rock meets THEhotel meets natural light. A future stay will definitely be on the agenda.
The drive home was smooth and uneventful and I'm actually glad I don't have any firm reservations until December. A trip like this one is going to need a solid six months of recovery.