As I've said for months now--and proved, using geometric logic, quarterly reports, and benchmarks for the Strip--the Cosmopolitan has not done a great job of marketing their casino. Like the Paris balloon, it's an inside joke that's not even so inside anymore. With the appointment of Tom McCartney as property COO, some people (me included) have guessed that this would change. And, less than a week into his tenure, I've got some evidence that it is.
Back in September, I notched some play at the Cosmopolitan as part of a bigger project I was working on. I played a similar amount at a few other casinos, and have been receiving steady comp offers from them since. Caesars has comped me to a few meals, sent me show tickets, and invited me to slot tournaments. The company's still convinced I want to ride a bus down to Laughlin and stay there for a few days, too, so obviously their data mining and psychographics are impeccable. At the M Resort, I got an immediate introduction to a slot host and some very generous comp offers, including rode tickets (which unfortunately I didn't move fast enough to redeem).
Cosmopolitan...nothing that I can remember. There might have been a $5 freeplay offer back in November, but I didn't receive one email or direct mail piece from them offering me anything substantial in return for coming back.
Yesterday, the mailman brought something black and shiny: a bona-fide comp offer from the Cosmopolitan.
It's not much--$75 Identity play on slots or tables and one free night in a "residential-styled living space"--but I think this gives me the chance to finally play Cosmopolitan check-in roulette. And there's something even more significant in the mailer. As you open it, there's a blurry photo of a chandelier on the left, the comp offer and reminder about the Apple Gift Card Giveaway in the middle, and, on the right, a photo of something that looks familiar.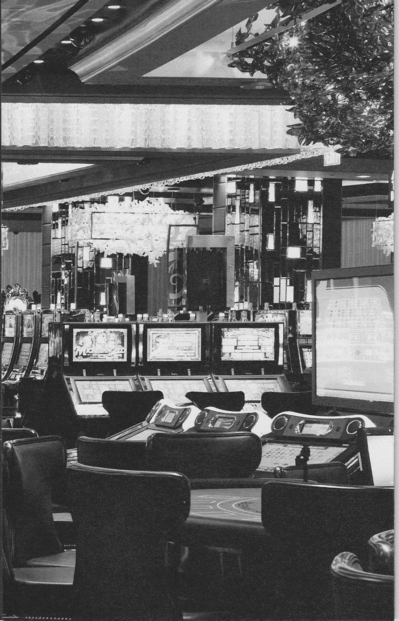 Could it be? Yes, it is. The Cosmopolitan has a casino, and they are advertising it to known casino players! You'll notice the distinct lack of excited-looking players in the shot, but it's a good start.