There's a bit of a mystery unfolding on the Strip thanks to Caesars Entertainment. Since the initial flurry that surrounded the initial announcement of Linq last August, we've heard precious little about the project, which will mostly be beneath, between and behind the Flamingo and Imperial Palace. After the jump, I take a look at what I consider the biggest unanswered question, and take a few guesses at possible answers.
As part of the $550 million project, the hotel currently known as the Imperial Palace will be reskinned and renamed. And the name that's going to adorn the property--which will be the center of Caesars "revitalized" Center-Strip portfolio--remains a mystery.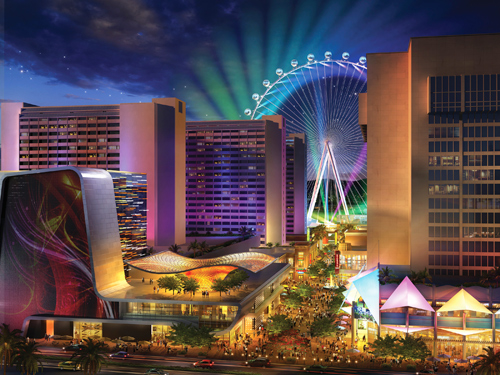 There are two possibilities. Either Caesars brass has already settled on a name and a brilliant marketing campaign...or it'll be installed on Tuesday. In a February conversation with some people inside Caesars who would be the first to know about the name, I was told that they'd don't have one yet. So, looks like it will indeed be installed on Tuesday. With Linq planned to open next year, it's certainly not to early to be thinking about a name.
First I'd like to ask the question, does the name really matter? A lot of people don't think so. By implication, Caesars management is saying it doesn't. That seems to be the predominant thinking in the industry, with the name of Aria not being given an incredible amount of thought, other than that it sounded nice, and the Hilton's new name being a string of initials (The D is the subject of a future post, so I won't get into that can of worms here).
But I'd say the name does matter. Think of The Mirage. It's iconic, right? What if it had been called "Bombay," as some early reports indicated, or just "Golden Nugget Las Vegas Strip?" It wouldn't have been nearly as memorable. The name gave Steve Wynn an organizing principle that made what might have been a mess of a resort--a volcano, white tigers, a rain forest, Siegfried and Roy--make perfect sense.
So I ask the question: if you were the one making the call, what would you call the former Imperial Palace?
Let's keep in mind that it's not going to be bumped significantly up the food chain, so Raffles Las Vegas is off-limits. Instead, we'll assume that it's going to be a mid-tier casino resort on par with its neighbors, the Flamingo and Harrah's.
I want to first look at the arrows that are already in Caesars quiver: the names they already own, but aren't using (or are under-using) in Las Vegas.
Horseshoe: this is the biggie. It's allegedly Caesars' one-step-from-the-top flagship brand, but there's no Horseshoe in Las Vegas. Years ago, the talk was that Bally's would be reworked into the Horseshoe, but the recession scuttled those plans. I'd argue that if Horseshoe nationally represents a property that's slotted above the Harrah's Brand, it doesn't make a lot of sense to make the world's most prominent Horseshoe a hotel that's at or below the quality of the neighboring Harrah's.
Grand: This is brand that the company has slated for deprecation. There used to be three Grands in its portfolio; now there's just one, in Biloxi, and that one has variously been planned to become the Horseshoe Biloxi and the Margaritaville. I'm about 99% sure that MGM would not let someone else open a "Grand" casino on the Strip.
Harvey's: famous name in Lake Tahoe; elsewhere, not so much. I'm guessing that this one isn't going to happen
Showboat: Once an innovative casino company (arguably the first locals casino in Vegas), Showboat was acquired by Harrah's in 1999. The only Showboat casino currently operating under that name is in Atlantic City. It's usually Caesars' lowest-performing property in the market. Take from that what you will.
London Clubs names: Caesars also owns London Clubs, and has two brands there that might be able to cross the pond. The first, Alea, is Latin for a die or, more broadly, risk or chance. Unfortunately, it sounds like the name of a scholarly journal and not a place with beer pong. The second, Rendezvous, plugs in nicely with the idea of Linq as a place where people meet, so it's got potential.
O'Shea's: Here's a thought: while you're relocating O'Shea's within the former Imperial Palace, why not just make the entire casino hotel an O'Shea's? It's already got plenty of name recognition, and the relaxed, fun, unpretentious vibe would translate well to the property's amenity level and dining options.
Margaritaville: Another thought: Why not consider the small Margaritaville casino inside the Flamingo a testbed for a Center Strip Margaritaville hotel casino? Again, instant recognition, and it slots nicely with the property's location and placement. It would be weird having the Margaritaville restaurant not be in the Margaritaville hotel, but Ocean City isn't in Ocean County in my home state of New Jersey, so I think people will be able to deal with it. The plus side is that the company already has a relationship with Jimmy Buffett, and he's already licensed in Nevada.
Nobu: This is going to be at Caesars Palace, and is clearly meant to be more luxurious than the former Imperial Palace, but it seems a little more appropriate to replace the kitschy Japanese imperial theme with a modern take. Not going to happen, but it's an interesting ironic thing to consider.
If you're not going to use a name already somewhere in the Caesars portfolio, there's really no stopping you from using anything. Here are a few suggestions:
Linq: Why not name the hotel itself Linq? If you're already branding the outdoor mall that, why not get more bang for your buck? Plus, it will link the Flamingo to Harrah's, so it's accurate.
A random string of vowels and consonants that signifies nothing. Hey, it worked for Vdara and Elara, the Hilton Grand Vacations name for the former PH Westgate Towers, so why not?
The Wheel Inn (or a variant thereof): It's going to be in front of a big wheel, so why not give it a wheel name? You could also call it Hub, Orbit, or Rotation. Or Upson Downs.
Co-branding with an anchor tenant: this is risky, because the tenant might decide to move, but if you can get them to pony up some of the costs, it might be worth it. Basically, it's the Nobu idea taken to its logical conclusion: build a hotel concept around an established retail brand. Since we have no idea what's going to be in Linq, this could go in a lot of directions. How about Urban Outfitters Hotel and Casino? Or this idea, which Hunter will either love or hate? The Apple Casino. Move the Apple Store from the Forum Shops, have it anchor Linq, and rebrand the IP as the world's first iCasino. Depending on where they go with the bars and restaurants, this could be a lot of fun. Toby Keith's I Love This Hotel, Casino and Resort for the win!
Those are just a few off-the-cuff suggestions. I'd love to hear what everyone else thinks.
UPDATED:
I can't believe I forgot this one: it makes a lot of sense from a lot of angles. It's another recycled name, and the most obvious one.
Flamingo Capri: Until 1979, this was the name of the property. I stumbled (back) on it as I was mulling one possibility: that you just fold the Imperial Palace towers and casino space into an adjoining casino. It's already administratively joined at the hip to Harrah's, the Flamingo, O'Shea's, and Bill's. So why not just make it the southern wing(s) of Harrah's?
Or, I thought, why not join it to the Flamingo? Then it hit me: Flamingo Capri. You're using the Flamingo brand, which is well established (and is already a good match for the amenity level), but you've got just enough difference that it won't be confusing. And it will make Linq even more of a "link," as it joins together two halves of the Flamingo.
I think that this strengthens the Flamingo brand, which I think has a lot of potential nationally, even though Caesars is only using it in Las Vegas right now. That wasn't always so. Back when Hilton owned the brand, you had Flamingo Hiltons (and then, briefly, Flamingos) in Reno and Laughlin.
It's a brand that would tie in well with a less formal, more fun-oriented casino in a lot of other markets. Let's say you could wipe out $20 billion in debt and had some money to rebrand properties outside of Las Vegas. I'd rebrand Bally's as a Horseshoe and rebrand the Showboat as a Flamingo. I'd also rebrand a few of the other properties, like maybe the Tunica Roadhouse and the Biloxi Grand.
Then, you'd have three Vegas-only properties (Paris, P-Ho, Rio),and only four other brands throughout the rest of the country:
Caesars: Highest end, strives to be at the top of market wherever it is
Horseshoe: Below Caesars, but still strives to lead market
Harrah's: emphasis on mass market customer
Flamingo: Like Harrah's, but more fun
Of course, even this simple scheme doesn't work, because Harrah's Atlantic City is currently nicer than Caesars Atlantic City. But I think it would make the company's branding a little clearer.