Atlantic City's latest casino opened in April; I got to see it last week. Mr. Monster wrote a great review of Revel on Atlantic City Tripping and I'll try to avoid covering the same ground. Shouldn't be too difficult, since I didn't see inside the guestrooms, but there's always the danger of going "He's So Fine"/"My Sweet Lord" with the common areas.
So, after the jump, here it is: Dr. Dave's look at Revel.
I've written a piece for Vegas Seven about the bigger issues behind Revel (don't have a run date yet, but I'll let you know when it's out), so I won't rehash (pre-hash?) that here. Instead, I'll focus on my experience as a guest.
Mrs. Dr. Dave and I ambled up the Boardwalk after parking at Resorts. I signed up for a player's card there and had a brief and ultimately unprofitable VP run, then headed down to Revel via the Fantacity complex.
Steel Pier was crowded, and the Taj looked very, very different than it did when I worked there, which is now more than eleven years ago. I generally like the changes, but it's weird walking around a place that I spent so much time in and seeing so many changes. Lots of stuff hasn't been moved, though.
We worked our way to the Taj/Showboat overpass. Showboat's looking a lot like it did the last time I was there, but the House of Blues completely changed the place. There are slot machines in the atrium where I used to watch Chris Columbo play drums behind a Dixieland quintet.
Then it's through the front of Showboat and out onto the boards again. There's an empty lot on Showboat's Boardwalk frontage (you can see it here)that looks a lot more noticeable with Revel next door. It's in front of the two expansion towers; presumably it's the space for another expansion, but I'd lay odds that's never going to happen now. Since we'd spent the afternoon at Gillian's Island in Ocean City, we both thought this would be a great location for a small water park.
But I digress. Finally, Revel was in front of us...and still far away. The property is bisected by Connecticut Avenue, with the parking garage and minimal (unopened) retail space on the side closest to Showboat, and everything else (more or less) on the other side.
And this is my first beef with Revel's design. Supposedly it was designed to flow into the Boardwalk. Why, then, is everything that a pedestrian would want to do as far away from the main pedestrian flow as possible? I heard a few people complaining about it as we walked over to the main entrance.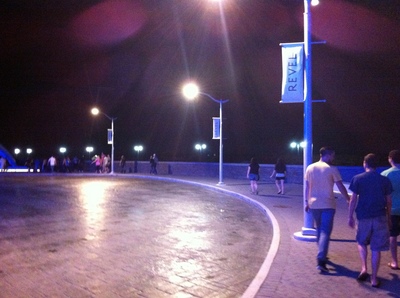 And then we walked into...a huge atrium, with escalators going up four stories (about 90 feet) in the middle of the space. Here's a picture: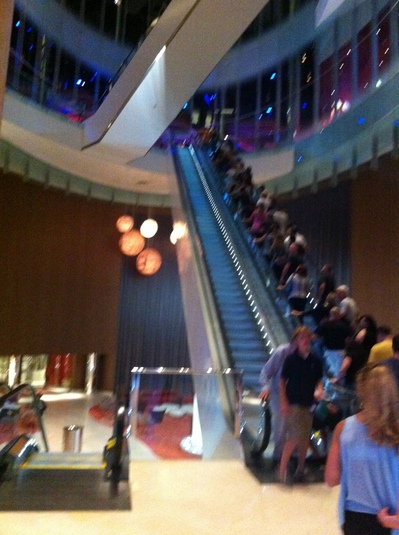 My first thought: this totally breaks one of Paul Steelman's casino design rules. My second thought: that's really, really high.
Granted, for a lot of people, that's not going to be a problem. But I'd guess that there's a significant portion of the population who's going to get a little sick at the thought of gliding slowly through the air, 60 feet above the very hard ground, with nothing to either side of you, and nothing but an escalator below you. When you consider that a good portion of people coming to a casino, even a young and hip one, are going to older and may have mobility and/or balance issues, it makes the Vertigo Atrium an even weirder choice. I was very glad to get to the second level and step back on terra firma.
Once there, on the casino level, we were greeted by a few young ladies handing out flyers to a nightclub--it was probably Ivan Kane's Royal Jelly. We asked for a laid back place to have a drink. They suggested Social, which had a live band, or Flirt. We chose Flirt.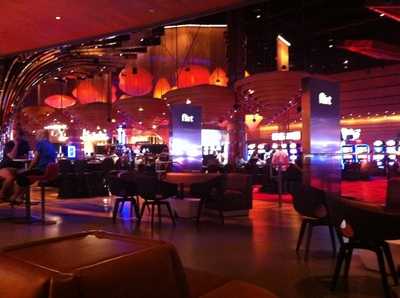 It's a nice enough little bar/lounge. I don't know if it qualifies as an ultralounge or not. There were maybe a half-dozen other folks in there, including a couple who might or might not have been on a first date; if they were, I don't think there was a second date, since the woman looked bored to tears.
Cocktails were in the $12-$16 range for the most part, in line with the Strip. Service was relatively quick and friendly (not tough, since the place was empty), but there was a problem. The bar had those leather-bound drink menus and included a bunch of different subheads (Not So Classic Cocktails, Infused Cocktails). I opted for a drink, but was told they couldn't make it. Huh? Turns out it was a "Social Signature Cocktail," which is only available in Social.
Which is a Harrah's Caesar Salad-esque glitch. Why not print up a separate menu for Flirt with the drinks they actually sell at the establishment. Seems like F&B is on autopilot there. You'd think that they'd want to give Flirt it's own identity, instead of just being the place with a smaller drink menu than social.
As far as casino lounges go, it was comfortable enough, but, like the casino itself, not crowded at all. I'd estimate about 10% of the slots were being played, and that is a high estimate. A few $10 craps tables were jamming, as were the blackjack and carnival games, but they were all low-limit. I don't think I saw a table over $25, and the vast majority were $10. I haven't circulated around in AC enough to know if that's par for the course for summer midweek, but it's definitely not on par with Vegas minimums.
Here's a short of the casino itself, from one flight up: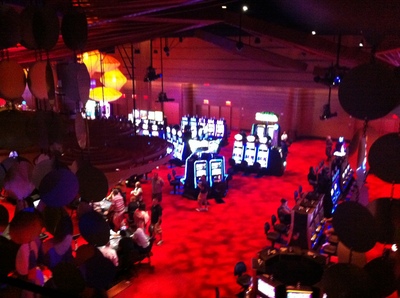 As has been said before, it's very red. It's a wonderful design, IMHO--very contemporary. There are also neat little areas like this one, with a circular video screen creating some atmosphere: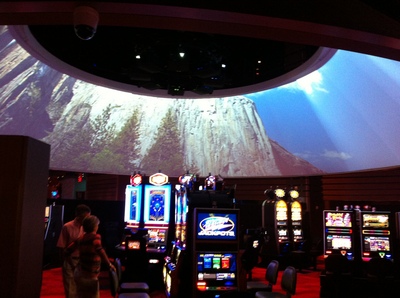 But, as you can see, still relatively empty. There were far more people at the Taj and Showboat that night.
We also walked around the other levels a bit. Like Chuckmonster said, great designs, but feeling empty right now.
The problem is, I don't know when it's going to fill up. Walking back to Fantacity, I looked at the "storefronts" on the boards between Connecticut and New Jersey Avenues. It doesn't look like there's any work being done on any of them, so it's likely that they don't have tenants lined up yet. I could having something there making a difference, but the fact that it's not moving forward gives me a bad feeling.
I would have liked to have done more than have one drink and walk around the place, and I'd definitely go back. It looked like they had some interesting restaurants, and the place has a definite ContempoVegas design. It really struck home how different Revel was when we returned to Resorts, which is the oldest casino in AC (opened 1978). It's been renovated at least three times since then, but it is worlds away from Revel. This is both good and bad. I can see some people who love Vegas loving Revel, and I can see some people--particularly older casino patrons--being turned off by Revel. I'd heard from others in Atlantic City that Revel was "like a warehouse" and "cold," and even though I didn't get that vibe at all, I can see how someone who was used to Resorts would.
All in all, I think it's a great-looking casino resort, with a few issues that probably aren't deal-breakers for most visitors. I'd really like to see them turn it around, both for themselves and for the city.